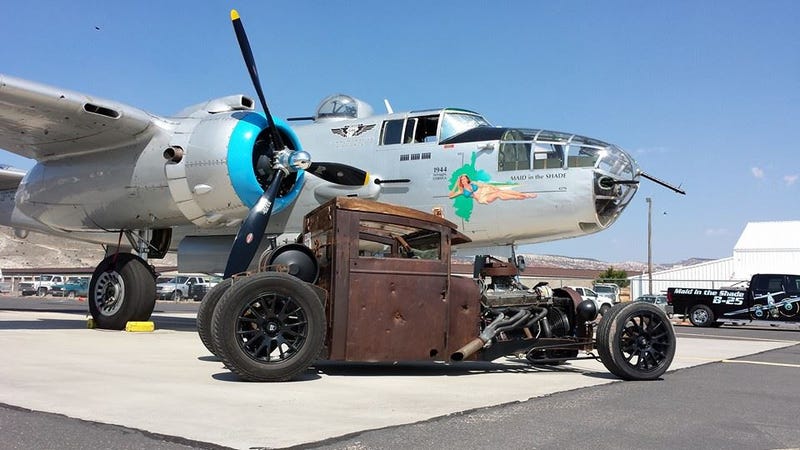 So my 1st Oppo article was about the amazing rat rod built by Chris Walker of ITW Hot Rods for the Rat Hard Rat Rod Tour.
I wrote about it first because the metalwork is simply stunning. It's one of those creations that can truly be called art. But it's not my favorite, and not the one that got my vote on http://www.buildoff.us/.
Nope, my vote went to Lenny Hartle from Utah.
The simplicity, honesty and stripped down nature of his build speaks to what rat rods are all about. This is the type of rat anyone with basic welding and mechanical skills, a vision and a lot of elbow grease can create.
Just look at this cab! At some point in its life it received a light chop, but unlike a lot of rats you can still see out the window and without a single curve its a chop anyone could do. This '27 Dodge is pretty much some sheet metal panels held together by L-joints, though you can't get this kind of quality steel anymore!
Even the holes are awesome! Of course, since the front windshield is just a big flat rectangle, a chop doesn't really cause any issues there but what about the back? Sure, a hot rod shop would probably fab up some replacement steel, mold in a window and blend it all together in a way that only years of experience and thousands of dollars in machines can do. But this is the Everyman Rat Rod, so what's a guy in his garage supposed to do for a rear and a roof? Wood. Old wood, likely reclaimed from some barn somewhere and beautifully fitted.
There's gobs of skill and craftsmanship in this rod, don't get me wrong, but its a great example of what someone can do with a small budget, a garage and your basic backyard mechanic tools. Look at the rear suspension! So simple, but beautiful in its symmetry and (my wife thinks I'm insane when I use these kinds of adjectives) graceful. True mechanical art.
As for the roof, Lenny again turned to wood. I don't know what they were originally from, but they look perfectly identical and fit like they came stock. There isn't even a need to be covered, the bare spars fit just right as is.
The radiator is in the front, nestled into a perfectly patina'd original shell and ignoring the recent trend of hiding it in the bed. The front suspension mimics the rear which might make for a rough ride but on the smooth wide roads of Utah I bet this thing is a blast. Even the modern wheels with disc brakes hiding behind them, speak to me and say "This thing is meant to be driven."
So there you have it, my pick for the Rat Hard Road Tour. A machine that has just what you need and nothing you don't, but still has small details that show the passion that went into the build. In a field of increasingly wild and overworked rat rods, it stands out with elegant simplicity. It's not made to show off metalworking skills or to combine as many old rusty rare parts as possible or sit there and be looked at. It's made to be driven and for the enjoyment of the driver. It gives me hope that perhaps even I, with my lack of skill, tools and budget, could someday build myself a rat rod this cool.
Vote for Lenny (or any other builder) at http://www.buildoff.us/ and if you're anywhere near the Redneck Rumble in Lebanon TN on Sept 20-21, check it out!
All photos stolen from Lenny's Facebook page, which I'm going to assume he won't mind. See more on the Rat Rod & Bike Buildoff Facebook page.